L.E.S. in the Smith, the Hill, and the Avenue in 2020
Posted by: Darcel
September 3, 2020
COVID-19 has put society on a new path of living, but hopefully on a temporary basis until health and safety for all is restored. Keep caring for one another by wearing your masks and thoroughly washing your hands!
The Lower East Side Avenue Reunion was held on the first Saturday in August on Aug 1, in East River Park on the FDR Drive at 9th Street headed by organizer Ezell Turner.
The Smith Family Day – usually the 4th Saturday in August – despite the pandemic was still held in the Smith Houses.
Sadly, L.E.S. Bands 12: Lower East Side Showtime 2020 had to be cancelled at the Amphitheater in East River Park as issued by NYC Parks & Recreation due to criteria having to use the stage and service road. Rather than put residents, performers and visitors at risk, LES Creative People In Action, Inc. (LESCPIA) decided to postpone their live music concert until 2021. Look forward to an announcement of a new venue while East River Park and the Amphitheater is expected to be closed for renovations throughout selected portions. We appreciate every one of you for attending faithfully and making our events a standout in our neighborhood for over a decade.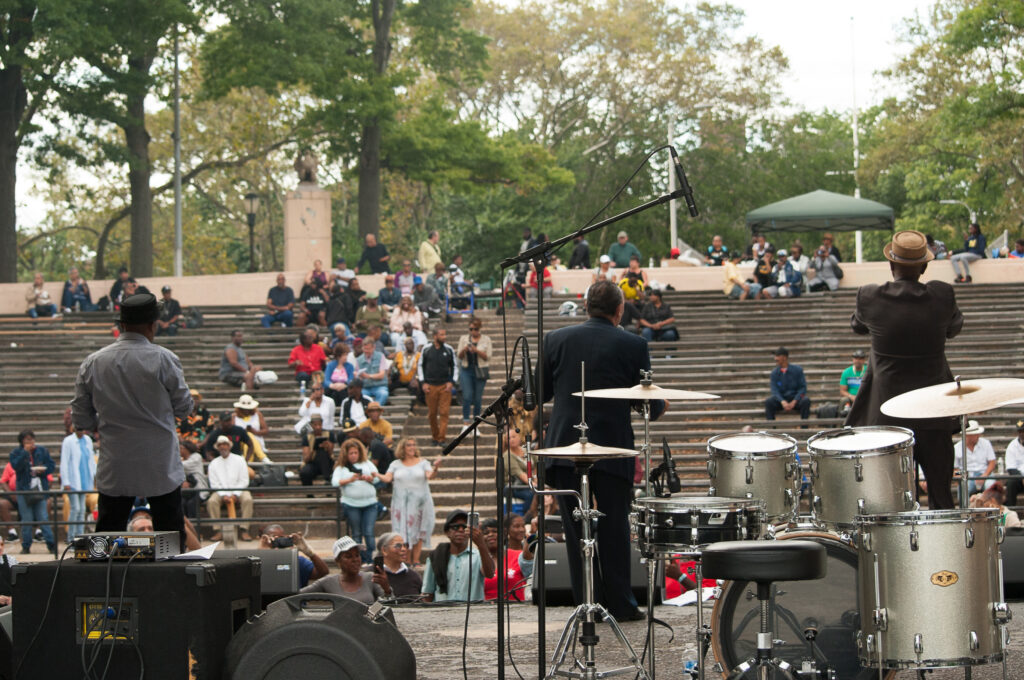 The L.E.S. family is devastated by the recent passing of Paul "PJ" Johnson, a dear childhood friend of many of us. He has been a staple of the "LES Bands" events as a spectator and performed twice: in the reunion of Boyz N Girls R&B/Funk band and later in the jazz band Mo'Jazz Network. Paul has left an indelible mark on all of us not only as a caring man for the people he considered 'family,' but truly an amazing brother, uncle, father and grandfather. He leaves a legacy of being one of the standout role models from our community and one of the smartest, talented musicians out of LaGuardia Houses. Whether playing drums, congas, steel drums, or having a great eye for talent, offering advice, connections, or managing artists, PJ dedicated himself to creating many opportunities for others with ease. Our hearts ache as he will be terribly missed. May Paul rest in peace in the Arms of the Most High.