Posted by: Darcel
August 30, 2023
This is in salute and honor of one of the greatest modern art forms to come out of the economically-challenged areas of urban society. But there is an overlooked fact the Lower East Side was formulating what was to become Hip Hop culture just as long ago, if not prior, to the "official" day bestowed upon New York and more specifically the Bronx, regarding the 'official' day Hip Hop was born. Big props to Kool DJ Herc, well deserved to be recognized as one of the authentic 'hip-hop' DJ's from the time. But he was not doing it alone. Community centers and outdoor "park jams" were happening in all the housing projects of the Lower East Side in the early 70s (Smith, Rutgers, LaGuardia, Vladeck, Gompers, Baruch, Lilian Wald, Jacob Riis). What folks didn't know was…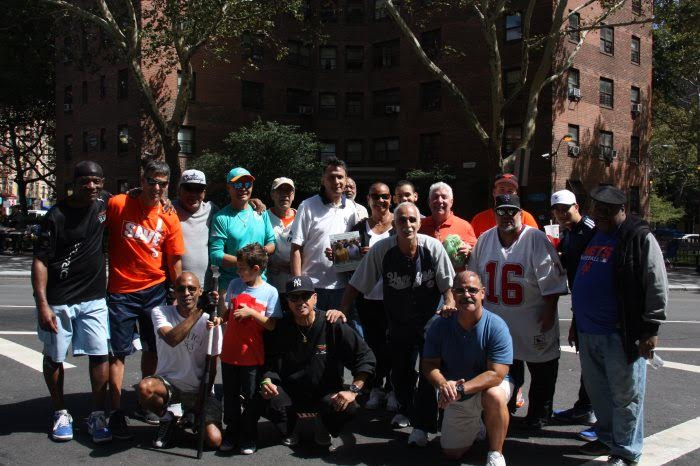 NOBODY HAD THE JAMS LIKE THE L.E.S.! NO BOROUGHS CAME WITH THE DANCE MOVES, PRE-HIP-HOP, LIKE THE FELLAS FROM THE L.E.S.! Back when boys and girls battled each other on songs (back then vinyl 45 records — with part 2 on the other side), it was called "burnin'." Then the girls got pushed aside and the guys started challenging each other, it was called "breakin'." Remember the reactions? "Oooooooh….Ohhhhhh, he BROKE on him!!" Those dances, started by the brothers in the L.E.S. 'hoods, became known as "Uprock." The upright footwork morphed and transformed a generation later into twists, spins and turns later on their necks, backs and heads… down on the ground… and eventually "Breakdancing," was born. The rest is history. However…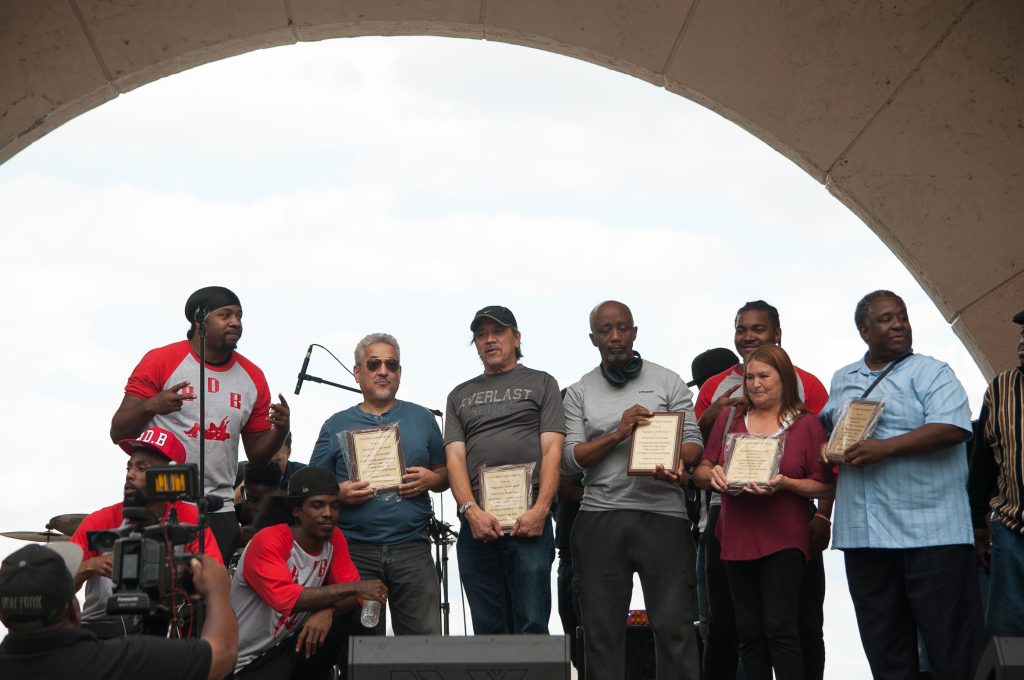 Pictured: LES Creative People In Action Inc. recognition Salute to the L.E.S. DJ Legends in 2019, LES Bands 11 at the East River Park Amphitheater (where "Wild Style" was filmed).
L-R: DJ Ice & Spanky; DJ Hank; Widow of DJ Apache; Brother of DJ Lenny P; not pictured, DJ Sammy Sam.
I am convinced the boys from the L.E.S. had the most ecclectic infusion of diverse cultures out of all the NYC boroughs that had to be an influence in their dancing. The exotic tastes in album cuts that emerged as 'ultimate break jams' made the reputation of the L.E.S. what it was, during this incubation period that was to become Hip-Hop. All the downtown, funky, integrated, bohemian, Greenwich Village, downtown and underground clubs (Paradise Garage; The Dukes; The Dome), to neighborhoods like Alphabet City's "Ave D," to Soul-R&B-Funk-raised childhoods co-existing with Chinatown, Little Italy, and the Jewish culture where the guys bargained with the merchants of Orchard St. to buy the latest double knits, suede fronts, cortefiel coats and fur kangols. Cap it off with the very exciting talent shows in the L.E.S. community centers and schools in the early 70s, performed by our immensely talented African-American and Latin youth raised in proud, hard-working households and you have a rare, helluva mix of creative expression.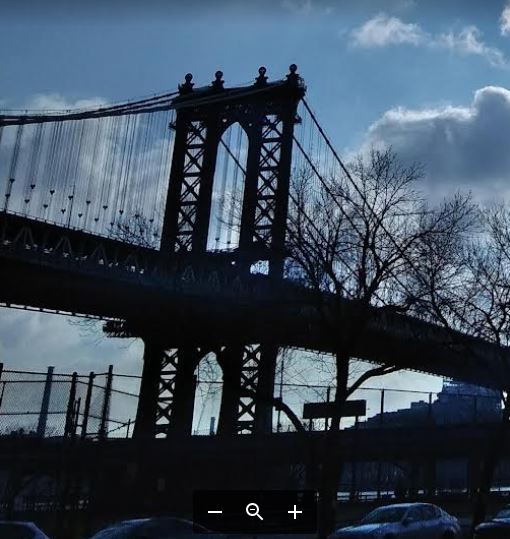 Many recordings that are Hip Hop staples were introduced to other boroughs by L.E.S. kids bringing their albums to parties in other boroughs. I was one of them. DJ Kool Herc had mad respect for one of the L.E.S. most popular spinners named DJ Apache who turned Herc on to various songs the L.E.S. was jamming to. Hip Hop pioneer and first Rap superstar Kurtis Blow (above center, left) knew L.E.S. B-boys before the Hip Hop era, during his high school years, admiring that way the brothers downtown, 'got down.' One of Kurtis biggest hits was named after a popular mix-master from the L.E.S., DJ AJ! The Lower East Side was one of the earliest neighborhoods to enthusiastically welcome the dynamic rap vocal group, Crash Crew, to perform at one of our neighborhood centers when Hip Hop was bubbling under the surface. KRS-One acknowledges the L.E.S. East River Park Amphitheater off the FDR Drive where the first Hip Hop movie was filmed, called "Wild Style." With that said check out the list below…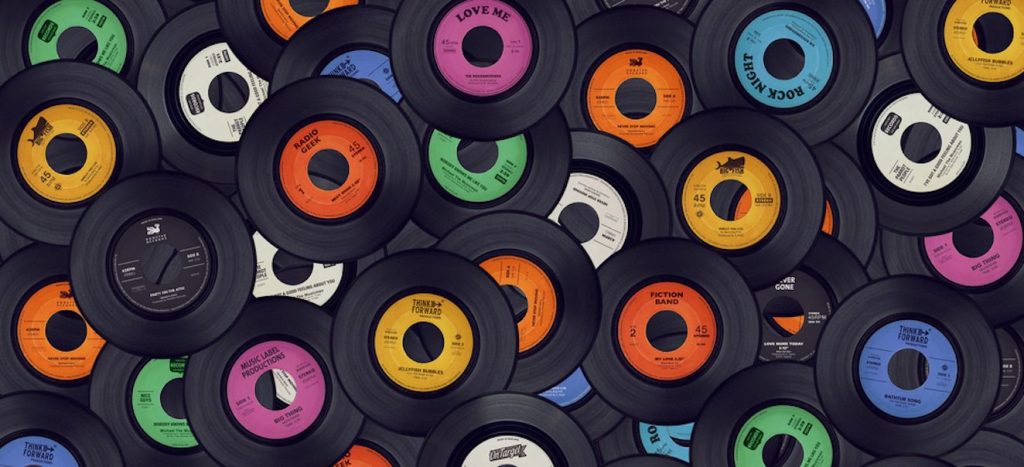 THE 25 SONGS THAT MARKED THE EARLY ROOTS OF HIP-HOP ON THE LOWER EAST SIDE:
Get Into Something – The Isley Brothers (1969)
Get Ready – Rare Earth (1969)
Get On The Good Foot – James Brown (1970)
Super Bad – James Brown (1970)
Scorpio – Dennis Coffey (1971)
Soul Power – James Brown (1971)
Give It Up Turn It Loose/Sex Machine live – James Brown (1971)
I'm Comin' – Bobby Byrd (1971)
Moment of Truth – Earth, Wind & Fire (1971)
C'mon Children – Earth, Wind & Fire (1971)
Melting Pot – Booker T. and the MGs (1971)
Listen To Me – Baby Huey (1971)
Love the Life You Live – Kool & the Gang (1972)
It's Just Begun – Jimmy Castor (1972)
Power – Earth, Wind & Fire (1972)
Think – Lyn Collins (1972)
Soul Makossa – Manu Diabango (1972)
Rock Steady – Aretha Franklin (1972)
The Mexican – Babe Ruth (1972)
Date With The Rain – Eddie Kendricks (1972)
Yellow Sunshine – Yellow Sunshine (1973)
Can You Get It (Susie Caesar) – Mandrill (1973)
Fencewalk – Mandrill (1973)
Apache – Incredible Bongo Band (1973)
Shaft In Africa (from soundtrack) – Johnny Pate (1973)
Many monster break jams followed in the years to come, I wish we could list them all. But looking at the above list as an example of what was being produced at the time, provides a look into the genesis of Rap Music, one of the world's most popular and lucrative music genres. These songs are the source for many rap samples. Can you recognize what sample was used in a modern rap hit if you heard these original tracks? Take time to listen to a few. For the OG's, take a walk down memory lane. For the New G's, listen how it all went down…and be inspired to create.
Photos: From the collection of Darcel Kennedy